Euromac has connected its name with quality products that it trades and manufactures for different segments
in which the company is operating like industrial establishments, slaughterhouses, hotels SME's, bars and/or restaraunts.
Euromac is specialised in trading second hand, new as well as refurbished machinery. One of the key facts about Euromac is that it nowadays plays a leading role in the Greek market of second hand professional food processing machinery.
Euromac is operating in the following product segments:
Professional bakery equipment
Professional meat processing equipment
Refrigeration and cooling units (condensers, compressors etc)
Refrigeration and cooling chambers
Supermarket equipment
Industrial equipment and machinery for slaughterhouses (Rendering)
HO.RE.CA equipment and machinery
Composting and waste treatment machinery
Refrigeration Units (diverse)
Product Description:
Refrigeration units with Bitzer compressors. Complete set with PLC and condenser. 13 different units available (4x – 6x – 8x compressors). The units are 4-6 months old used. For more information please send us your inquiry.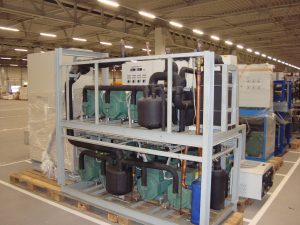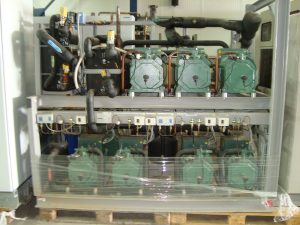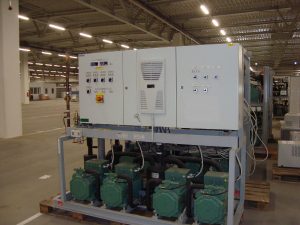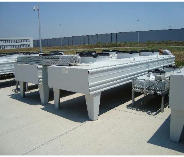 GRASSO Ammonia compressors (diverse)
Product Description:
Single-stage screw packages of GEA Grasso. Capacity range of 130 to 5,700 kW. Cooling capacity depends on the compressor type (NH3 -10/+35 °C, NH3 0/+45°C, R134a -10/+35 °C)
• Stepless capacity control by frequency inverter and capacity slide
• Robust base frame for long motor bearing lifetime
• Low positioned gravity center for a low vibration level
• Oil separator with variable sizes and low oil charge to achieve an oil carry over of less than 5 ppm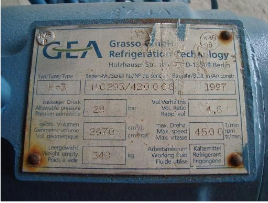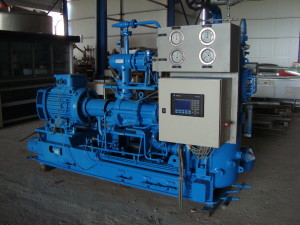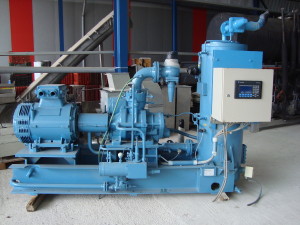 MYCOM compressors (diverse)
Product Description:
Brand Mycom
Type F6WB
Refrigerant R 22 / R404A
kW at -10ºC/+40ºC 257,3
kW at -20ºC/+40ºC 159,2
kW at -30ºC/+40ºC 88,3
Electromotor kW 90 kW at 975 RPM - Unloaded Start - Capacity Control - On steel base frame - Oil separator - Liquid line filter drier - Sight Glass - Solenoid Valve - Sizes 2450x1040x1800 mm (LxWxH) - Remarks 572,6 m3/h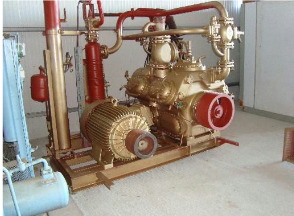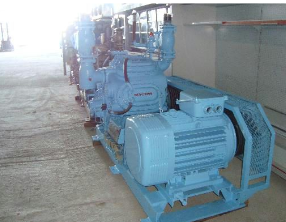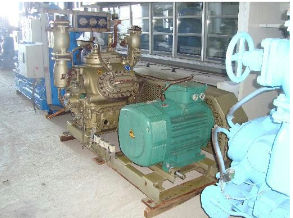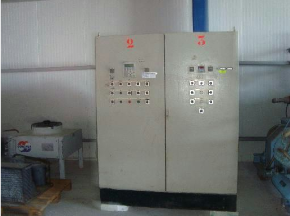 Electrolux Blast Chiller-Freezer, 180Kg
Product Specification
• High density polyurethane insulation, 85 mm thickness
• Blast Freezing cycle: 170 kg from 90ºC up to -18 ºC in less than four hours
• Blast Chilling cycle: 180 kg from +90°C up to + 3°C in less than 90 minutes
• Soft Chilling (air temperature 0°C)
• Hard Chilling (air temperature -20°C)
• Shock freezing (low air temperature adjustable up to -41ºC)
• Turbo cooling: chiller works continuously at the desired temperature; ideal for continuous production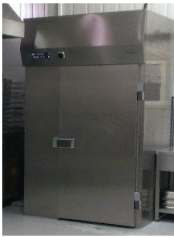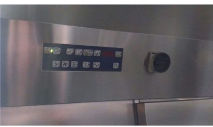 Supermarket Equipment (Diverse)
Product Specification:
Diverse Supermarket equipment available AHT Sliding Lid Chest Freezers, vertical showcase freezers, self–service showcase etc